An end-to-end wireless bridge solution for quick and cost-efficient expansion of wireless network coverage and capacity.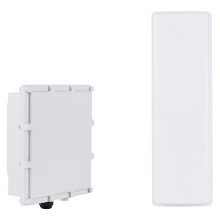 UOB4220-16D Wireless Backhaul Base Station
The UOB4220-16D is an industrial grade 802.11n bridge AP for outdoor applications. UOB4220-16D can provide customers with stable outdoor wireless signal coverage, to ensure that customers enjoy a stable, high quality, convenient broadband services.
Thanks to support of 802.11n standard and its advanced technologies, the UOB4220-16D provides up to 300Mbps throughput. The product incorporates a number of advanced technologies, to ensure high throughput and reliable wireless signal coverage under various application scenarios, and supports the built-in IntelliTRX technology including features such as:
TDMA

: eliminate the performance degradation caused by hidden terminals and maximize the wireless transmission efficiency

Frequency

(channel) expansion function: eliminate interference caused by the same frequency and adjacent frequency through more frequency selection

Band

width selection: by adjusting the channel width, the overlapping parts of spectrum can be avoided and the influence of interference by other channels can be reduced

AutoAck

function: intelligently calculate the ACK value required for long-distance transmission to achieve the optimal performance at this

distance
The product is built to work in outdoor environment applications, and complies with the IP66 standard.
802.11a/n

Transmission distance: 0~5km

Max transmission rate: 300Mbps

Multiple operation modes: AP, Station, WDS AP, WDS Station

PoE

Flexible management

IP66