An end-to-end wireless bridge solution for quick and cost-efficient expansion of wireless network coverage and capacity.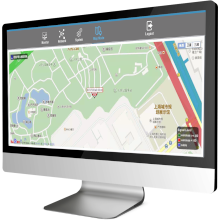 WBM-H2
The WBM-H2 is an integrated wireless access controller and management system. It provides centralized AP configuration and network management tools, dramatically reducing time and efforts related to network deployment, operation and maintenance as compared to traditional fat AP management routines.
The WBM-H2 can be seamlessly integrated with existing networks without the need to change network architecture, simplifying network deployment and management, and providing investment protection. The product can manage up to 2048 devices, with maximum number of wireless users 65535. With its strong feature set, the system is capable of running powerful WLAN access networks for various deployment scenarios including hot spot coverage, campus networks, enterprise networks, wireless coverage for metropolitan area and more.
The system offers rich functionality including user control management, intelligent radio frequency management, recovery etc.
An operator can get full network insights with real-time monitoring network operation status, timely reporting of connection, disconnection and other information, as well as real-time alarm notifications. At the same time, all data is stored onto the server for historical trend analysis.
The WBM-H2 is focused on high efficiency of network operation and maintenance resulting in operator's time and cost savings: automatic upgrade of APs, CPE, automatic configuration, real-time monitoring.
Configuration and maintenance
Smart discovery
Network visualization with online maps
Monitoring and alerting
Statistical data collection
Rich reports
CAPWAP-based